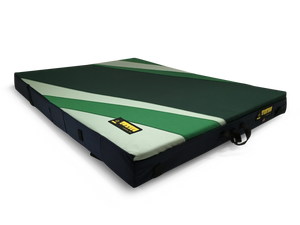 Our most popular pad! A streamlined version of the Full Pad, the Simple Pad (36"x48"x4") is the same exact pad without the sewn on pocket flap.
The go-to option for boulderers looking for the highest quality foam and
fabrics without any added bells or whistles. This elegant pad closes
securely via 4 simple metal buckle closures along the outside of the pad
(3 along the 36" height and 1 on the bottom). For extra padding, our
new slider easily fits inside when closed, for ease of transport.
The Simple Pad features a 1050d ballistics shell, 1000d pad top, 3
convenient grab handles, hybrid hinge, beefy adjustable shoulder straps,
sternum stabilizer, beefy 2" hip belt and is compatible with our deluxe
hip belt  for added support. Add our innovative Load Flap  for
easily and securely piggybacking multiple pads to your simple pad.
Comes in various colors.
MADE IN USA