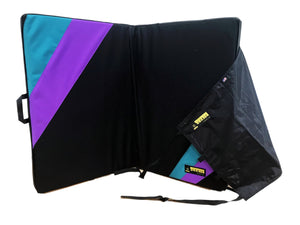 With a 36" x 48" landing surface, the Full Pad offers a full 4" ofhigh-quality cush' for your bouldering enjoyment (1" hard foam and 3"
soft foam). A 24" x 15" pocket flap securely carries your gear and keeps
what you stuff in the pad from sliding out. When your pad is open for
use, our pouch is designed to secure and cover your shoulder straps,
making the hike home from a muddy or wet day a bit dryer.

The Full Pad closes securely with simple and clean metal buckles and
folds down to 36" x 24" x 8" for hiking. Fully adjustable shoulder
straps and a thick 2" hip belt haul loads with ease. We are proud to
have our full pad chosen by Climbing Magazine for the Gear Hall of fame.


Features include a 1050d ballistics shell and 1000d Cordura landing
zone, as well as Long closure straps on the pocket flap that enable
another standard size crash (full or simple) pad,  Half Pad ,
Briefcase Pad ,or Blubber pad to attach and piggy back on your
back.
Comes in various colors.
MADE IN USA